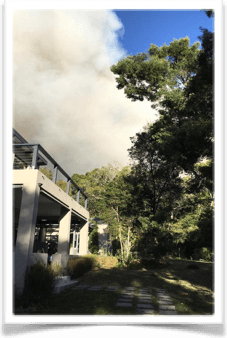 "If your house was on fire what would you save?" is a conversation piece at parties or a way to re-look at your belongings. It is a question many of us may have thought about but luckily not many have lived through. Tragically however, the huge fires in the Garden Route made that an all too real situation for many.
I was evacuated twice from my house and it was a very steep learning curve! I was fortunate to have time to pack and so very lucky not to lose my home but what were my lessons?
- Don't assume it won't happen to you! The first time I evacuated I thought only of what I needed for that night assuming it was just a precaution. After the scale of the fire became clear this was clearly a very poor assumption.
- Have all your essential documents easily filed for quick retrieval. A good filing system now is a tremendous asset so you don't waste time searching for anything. A good tip I have is also to email yourself a copy of ID documents, insurance papers etc. as all email systems have cloud storage and are accessible from anywhere.
- Take a charger to go with your phone. Spending time checking WhatsApp groups, Facebook, finding and reassuring friends and family drains a battery very quickly and it will be your lifeline.
- When I looked around my house at what to pack it really struck me that it was just a house of "stuff" what was most important to me were my dogs and a few treasured pieces which I choose on instinct more than anything. I love the story of a young boy told to pack two items important to him and he packed the Nutella & peanut butter jars! In the end, my car was filled with less than I often have for a week away.
- Other quick tips include take any medication with you including headache tablets for the inevitable stress headache. Water, snacks, toilet roll, plastic bags, warm blankets & clothing in case you spend a night in your car, as I did, unable to find any access to a safe haven.
- I also took photos of the interior of the house in cupboards and wardrobes to remind me what I had both for personal reasons and in case of an insurance claim.
The key take away from my experience and talking to others is to remember that much of what you have are just things! Memories are in your head, gifts have already given pleasure to giver and receiver, favourite items will be remembered and new favourites will be found. Family, pets and friends are what really matter.
By Alix Coxon